Wine, cheese, frogs legs, snails and the Eiffel Tower. With Iconic landscapes, romantic views and Europe's highest mountain ranges. In France you are treated to a blend of man-made and natural beauty like nowhere else in Europe. You'll also discover a dizzying array of artistic and architectural wonders – soaring cathedrals, chandeliered châteaux, and museums filled with cultural icons. To experience everything France has to offer. Make sure you go to France with a few extra Euros in your pocket, so you can soak in all the food, wine, and beauty. Hopefully this will help you.
The French government rates hotels on a one- to four-star system. One-star hotels are budget accommodations, two-star lodgings are quality tourist hotels, three stars go to first-class hotels and four stars are reserved for deluxe.
Hostels will range from €20-40 a night, depending on where you're staying, Paris will be on the higher end. Look into renting a room or apartment through Airbnb. In an expensive city like Paris, this will be your cheapest option. Prices start from €15 for a shared room and €45 for an entire apartment.
A fresh baguette, croissant is possibly the most iconic French food you can buy. The bread is just as delicious by itself as it is with a traditional French cheese such as gruyère or brie. Escargot (snails) may seem like a strange dish, but in France they're a delicacy, served hot in their shells with heaps of garlic and butter and something I had on my bucket list along with frogs legs (Which are harder to find).
Buying your own food from the many markets in France can be very cheap and the best way to experience the country's cuisine.
Within most major cities public transportation is efficient and cheap. In smaller towns, such as Rouen, St-Malo and Honfleur it's easy to navigate on foot. Renting a car is a good way to travel around the French countryside. Trains are known for there on-time performance and are comfy, you can travel in first or second class by day and couchette by night. Most trains have light dining facilities.
In France the power sockets are of type E. The standard voltage is 230 V and the standard frequency is 50 Hz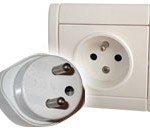 Type E: This socket also works with plug C. Plug F will work if it has an additional pinhole.
Your need for a power plug adapter depends on the power plugs used in your own country.
'Free' roaming in the EU has now started, failing that there's another easy trick to get free roaming simply by swapping your Sim. You can buy a French SIM card from one of the three main French providers, Bouygues Télécom, Orange, or SFR. (You'll need an unlock phone though) Otherwise, it may be best to stick to free Wi-Fi.
Some 'Free' roaming does have it's limits though, so you'll want to check with your provider.
Drink wine In France, the wine is cheaper than water.
Skip the clubs Clubs in France are expensive and charge a ridiculous entrance fee.
Most French take the month of August off for their summer holidays. It can be a nightmare time to travel the country as a foreigner as major tourist areas, especially the south of France and the coast, are rammed full.
Sadly being a tourist makes you a target, never leave valuables in plain sight.
ANY encounter or transaction begins with "bonjour". Atleast learn some of the basics, the French like it if you try.
Tipping By law, all bills in cafes, bars, and restaurants say service compris, which means the service charge is included. However, it is customary to leave €1 or €2, depending on the quality of the service; in more upscale restaurants leave €5 to €10.
Time France is on Central European Time, which is 1 hour ahead of Greenwich Mean Time.
Smoking is banned in all public places in France, including cafes, restaurants, and nightclubs. It's permitted on outdoor and semi-enclosed terraces.
Drinking Laws The legal drinking age is 18, but persons under that age can be served alcohol if accompanied by a parent or guardian.
Have I missed anything, Let me know below