Life is pretty chilled in Spain, it's all siestas and everything runs late. The Spanish like to enjoy themselves, move slow, eat well and relax.
Spain is pretty cheap when compared to other places in Europe. You'll find free wi-fi almost everywhere. Prices are are lower outside the major cities, I've used airbnb with great success. Hostels usually offer a free breakfast starting from €15, hotels start around €45.
Tapas will be the cheapest meal you can get, if you want wine expect to pay the same again or more. The average restaurant will cost around €20. You have the usual Fast food restaurants like McDonald's.
Hire car is the best method of transport if you want to go any distance. If your staying in a city then use the metro and bus lines. Trains can be expensive especially the high speed routes.
In Spain the power sockets are of type F. The standard voltage is 230 V and the standard frequency is 50 Hz.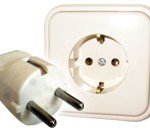 Type F: This socket also works with plug C and E.
Your need for a power plug adapter depends on the power plugs used in your own country.
'Free' roaming in the EU has now started, failing that there's another easy trick to get free roaming simply by swapping your Sim. (You'll need an unlock phone though) Otherwise, it may be best to stick to free Wi-Fi.
Some 'Free' roaming does have it's limits though, so you'll want to check with your provider.
If you have the time and want to save money, take the bus.
You'll find the cheapest (and freshest!) produce and meat at the local markets.
Spain is a country where the strength of the sun can be deceiving, so bring lots of sunscreen.
Sh*t Climbing In Mijas Pueblo
-
I took a day trip with friends to check out the climbs near one of the jewels of the Costa del Sol, the beautiful little town of Mijas.… Continue reading

Sh*t Climbing In Mijas Pueblo
Hiking Spain's Most Dangerous Path
-
If you enjoy a hike in the sunshine and don't have a fear of heights then this is the perfect place for you.… Continue reading

Hiking Spain's Most Dangerous Path
A Guide To Climbing In Villanueva del Rosario
-
Wherever you choose to climb, once you reach the top you'll just want to sit back and soak it all in, the scenic views are stunning.… Continue reading

A Guide To Climbing In Villanueva del Rosario
Have I missed anything, Let me know below