The United Kingdom is one of the most popular tourist destinations in the world (especially since Brexit, with the pound having weakened, the country has become cheaper to visit). London is most travellers first choice destination and no doubt the most visited city. It draws people in with its charm, history, and of course centuries old traditional pubs. England's smaller cities, like Bath, Oxford, Exeter, are just as equally fascinating with lots of culture and fewer crowds. Liverpool, birthplace of The Beatles, boasts a rich musical history. You have the beautiful peak, lake districts and Yorkshire dales in the north. The Scottish highlands with its mountains, lochs and glens. Giant's Causeway in Northern Ireland. The Brecon Beacons, Snowdonia and the capital city of Cardiff in Wales. Stonehenge, Hadrian's Wall. Don't miss the stunning coastlines, beaches and the rolling hills of the moors in Cornwall and Devon. The countryside is fascinating and full of natural beauty. Once you get outside of London the prices drop dramatically. I personally think the best this country has to offer is outside of its capital.
Hostels are best if you're looking for a budget-friendly option and you don't mind sharing facilities. In most British cities there is a selection of simple, clean and good value hostels. starting from £10 a night dorm rooms. Many modern hostels also have private rooms and en-suite bathrooms starting from £25. Amenities usually include free wi-fi, breakfast, a common room, TV and laundry facilities. Check out hostelworld.com
Airbnb is my preferred budget choice and cost from £20 a night for a private room, while entire apartments/homes can start around £40 a night.
Stay at the Inn, as traditional as cream tea and cake. The British pub culture often comes with the option of a bed for the night. You can socialise, eat and sleep all under one roof, which is a great way to meet friendly locals. Many date back to the 18th century and some are even older! Expect a warm atmosphere, traditional décor and the possibility of an onsite dog (or cat) to welcome you! Check out stayinapub.co.uk
Bed & Breakfast, probably the most famous budget accommodation in the UK. These are usually private houses or farms and tend to be family ownership. Facilities can be simple (rooms may not have TV, no telephone or bathroom), but the best of them can be a home from home. Prices include breakfast. Some B&Bs won't accept credit cards or travel vouchers, so I advise to bring cash with you.
Budget hotels like Travelodge and Premier Inn offer the same amenities and start around £30 per night for a twin room. It's best to book a month or more in advance.
Campgrounds can be found all around the country and most have basic facilities. Expect to pay around £7 per night for a place to pitch your tent. Check out campinmygarden.com
You can eat cheap in the UK if you know where to go. Fish & chips are the traditional bite or a kebab, these are just a few pounds. Indian or Asian food can be found for £6 at lunch times. A sit down meal at a restaurant with table will probably cost you from £25 for a main course. (Eating out at restaurants will soon put a dent in your wallet, so you'll want to avoid doing so all the time.) Best places to buy and cook your own basic groceries are Sainsbury's, Morrison's, Lidl and Aldi.
It's worth remembering that Britain is a relatively small country, so travelling to the many beautiful places is actually pretty easy. If you're planning on visiting different areas of the UK there are a number of ways you can reach your destination.
Train, The National Rail service is always expensive. It's something we all complain about here in the UK. A journey from London to Liverpool can cost as little as £25 or as much as £150 during peak hours (midday)! If you want to travel by train, then I would split your fare into separate tickets. Check out www.splitmyfare.co.uk
Bus, Megabus or National Express are the cheapest ways to travel around the country, where fares can start from as little as £1.
Car rental can be arranged at major airports, large train stations and city centres. To get the best deals, do your research and book before you arrive in the UK. Just remember they'll be right hand drive.
You may prefer more leisurely forms of transport such as bike, canal boat or horse. Sometimes there are unusual picturesque local options, like arrive through the surf to Burgh Island on the sea tractor. Larger car ferries travel to Britain's islands and there is always the option of flying by plane from far southerly to far northerly destinations.
 Taxis and Uber are available at all major coach and train stations.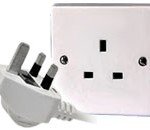 Type G: This socket has no alternative plugs.
The voltage in Britain is 220/240 AC, 50 Hz. Electrical plugs have three rectangular pins and take fuses of 3, 5 and 13 amps.
Visitors from abroad will need an adaptor for appliances that have been brought from home, such as laptops, hairdryers and phone chargers. Most hotels will have two-pronged European-style sockets for shavers only.
It is easier and cheaper to purchase a PAYG (pay as you go) SIM card locally and top it up with credit. This will allow you to use the local mobile-phone networks, though you can only do this if your handset is not locked to a specific network.
Most of the time Wi-fi is freely available. If you're staying in a hotel they may include Internet facilities as part of their service. Wi-fi is often available for free at libraries, many pubs, cafés and museums, so you can sit down and use your laptop, tablet or phone.
Public museums offer free admission in every city throughout United Kingdom.
Eating in the UK can get quite expensive, but for good cheap meals, visit the local pubs.
Eat out during lunch. Restaurants offer fabulous lunch specials where you can get multi-course meals for around £10 or 2 for 1 pizza specials.
Recent Posts About United Kingdom:
Have I missed anything, Let me know below